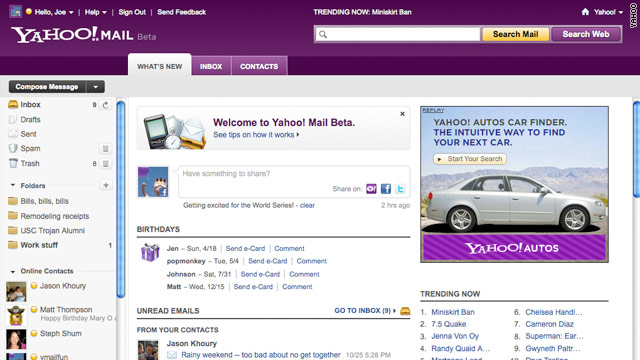 (CNET)
--Yahoowants to make its Web e-mail service a place you never want to--or moreimportantly -- have to leave to get your social fix. Thecompany onWednesday is releasing an overhauled version of its
Yahoo Mail Beta
clientthatit says is twice as fast as the previous version, whilemanaging totackon new features like an integrated Twitter client,rich mediapreviewsand a more full-featured instant messaging client.
Yahoosaysthis speed boost should be especially noticeable to usersoutsidetheU.S. with latency issues, due mostly to the new versionmaking useof thecompany's
cloud computing technology
.Thismeansthat if you're on a spotty connection, the app can adjustitsbehavior tokeep pages from timing out, or becoming unresponsive.
Besidesthespeed and performance increase, which Yahoo says were thetopusersrequests, the company has added a very robust Twitterclient,whichjoins the existing social-sharing tools for Facebook andYahoo.You canpost to just Twitter, or any combination of the othertwoservices, aswell as see Twitter status updates in the updatestreambelow. Yahoohas long had a way to slurp in Twitter feeds, but nowyoucan do thingslike reply and retweet without leaving the page.
Ifasynchronousupdates are not your thing, Yahoo has also tuneditsintegrated IMservice to include some desktop software-likefeatures,includingwindow docking and tabbed conversations. This letsyou keep achat withseveral people running in one window while you goabout withothere-mail tasks.
On top of these changes, Yahoohas addeda welcomefeature in the form of media previews. Now, when youget alink to aYouTube video, a Flickr or Picasa photo set, you can viewthatcontentwithout leaving the message. Clicking on any of these items,aswell asattached photos, will open them up in a simple lightbox viewer.
Togetthenew features, users will need to opt in to Yahoo's Beta forMail.Theyare not yet integrated into the company's Classic mailservice.
©2010CBS Interactive Inc.All rights reserved. CNET, CNET.com and theCNETlogo are registeredtrademarks of CBS Interactive Inc. Used bypermission