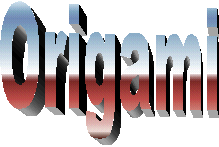 Most
of us will remember folding paper cups, salt cellars (we called them
'cootie' catchers or 'fortune tellers') and paper balloons as children in
elementary school. There is more to origami than these simple models would
lead us to believe. Origami comes from the Japanese words for folding, ori,
and the Japanese word for paper, kami.


History of
Origami

Since about the first century AD, the time when it is believed that paper
was first invented in China, people have been folding paper into various
shapes. The Chinese developed some simple forms, some of which survive
down to this day. When the secret of paper was carried to Japan in the
sixth century AD by Buddhist monks, it was quickly integrated into their
culture.


Origami:
Fold art, geography and cultural studies into one lesson

Origami, the ancient Japanese art of paper folding, can be an interesting
way to combine art lessons with units on social studies, culture and even
history and geography.


The Ten
Commandments of Origami

1.Choose suitable paper and cut to required form and size.
2.Fold paper cleanly and carefully, especially at the small points of
corners.


Origami USA

Welcome to the OrigamiUSA web site. OrigamiUSA is a not-for-profit, tax
exempt educational and cultural arts organization which is dedicated to
the sharing of paperfolding in America and around the world.


About Origami

The Japanese word "Origami" is now an internationally recognized
word and is synonymous with the art and craft of paper folding. "Origamido",
the way of origami, is a personal journey of learning, creating, teaching,
using, and appreciating origami.


Top of Page
Paper
folding
Instructions Sites
The Keiki Page: Origami for
Kids


This site has links to many origami figures. Print the page and fold to
make your creation. Excellent stating page for kids.


Origani
for Beginners: The Swan


This is written so parents can read the instructions while kids fold...but
don't read aloud! Just use the written instructions to give some pointers
if necessary. Pictures are sometimes enough by themselves.


Jasper's
Guide to Paper folding Instructions On the Web


If you follow along with these handy guides, you can make your own
beautiful models in just a few minutes.


Eric's Origami Page!


Welcome to my origami page! Origami is the art of folding paper. The word
is Japanese, literally meaning "to fold" (oru) "paper"
(kami).


Origami page of
Edward Crankshaw

Jim
Plank's Origami Page

How
to Fold a Crane

Fascinating
Folds

Let's
Try Origami

Origami - the ancient
art of papar folding

ORIGAMI -
Paper folding for fun

Jopephy Wu's Origmai Page

Origami Sociteit
Nederland

The
Geometry Junkyard - Origami

Shapes
within Shapes - Origami

Arts &
Crafts Class - Let's Fold ORIGAMI!

West Coast
Origami Guild

YAHOO:
Origami
Pages


Check out Yahoo's list of origami pages at this site.


Seach
Index for Origami
Search
For Models

The Index is a representation of a database containing over 4800 models
that have been published in periodicals and books. The database has been
compiled by a number of volunteers.

Top of Page
Origami
Listservice
Origami on The Internet:
An Origami List service

More than anything else, the internet rekindled my interest in origami. To
add your name to a list service for origami resources and discussion,
choose this site.

Top of Page
Teaching
Resources



Learning
With Origami


This site contains many link to origami resources including resources for
teachers.



Why
is origami so good for you?


I am writing from the perspective of an art teacher who likes to exercise
a child's brain; to stretch them out in directions that could use a little
flexibility so they build an awareness of alternative ways of thinking,
and to strengthen them in areas that will serve them in regular academic
tasks. Origami does all that in an enjoyable way.




Educational
Benefits of Paper Folding


This section is designed to help teachers and educators (and parents)
explore the world or Origami and the Paper Arts from an educational
viewpoint. Origami makes learning more enjoyable and when learning is fun
- children learn more!